DST EXTRA
VOLUME 2 ~ ISSUE 5 ~ DECEMBER, 2011
NEW DST WEBSITE, YOUR SOURCE FOR ALL THINGS PREP ROOM
DST has launched a "new and improved" version of its website. The site has an updated look and many new features to help the viewer find the latest product information. You can also click on to educational articles about issues that affect the preparation room in the funeral home.
Try it. It's for you. We hope you like it!
WE HAVE A WINNER!!!
A set of custom acrylic accessories for the prep room is on its way to Carol Baugh, winner of the DST Facebook drawing. Ms. Baugh has been a licensed funeral director in New York and New Jersey for the past thirty years.
Many Thanks
…to the many folks who stopped by the DST booth at the Chicago NFDA convention. It was great to meet new friends and visit with valued old friends. If you received a certificate for a $1,000 discount off the Premier Design fee, remember that it will be honored through June 30, 2012. Premier Source provides design of the prep room coupled with a complete package of OSHA compliant equipment including PrepAir and PrepArm ventilating products.
PEACOCK FUNERAL HOME FEATURE
Funeral Home and Cemetery News featured Peacock Funeral Home in Whiteville, NC, in its November issue. Craig Peacock is shown in the preparation room. You can read the entire story on our website: www.duncanstuarttodd.com/new/client stories.
THE "ADDVANTAGES" OF YOUR PREP ROOM
Is your preparation room a plus or a minus in your total image? Duncan Todd explores that question in the November 2011 issue of The Director. This article is one of many from DST that has been published by the various trade magazines.
You can read more at www.duncanstuarttodd.com/news, industry publications.
FEATURE OF THE MONTH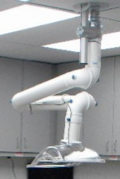 There is still time to save on PrepArm
Post NFDA Convention Discount 10% Off
Save $295 to $487
Must mention this DST EXTRA offer.
Offer good through January 31, 2012.
PrepArm is a device for localized exhaust ventilation (LEV) in the prep room.
Full product benefits and features can be found on the website.
OUR LILY
Thinking about all these things "new", Lily ponders whether there is anything new under the sun. That leads her to echo Ben Franklin who cautions:
"Don't walk in the sun if your head is made of wax."
'TIS THE SEASON
The DST Family wishes you and your family the best of the holiday season. May the New Year bring happiness, health and prosperity to all.
~ Duncan, Marjori, Erin, Doris & Patty
CONTACT US
Call for a Free Catalog and Premier Source Brochure
877 832 6898
info@duncanstuarttodd.com.